Research Institute of Electronics and Microsystem Technology
Address: 9/16, street Academician Yanhel (vulytsia Akademika Yanhelia), Kyiv, Ukraine, 03056
Phone: 236-96-76.  E-mail: d.tatarchuk@kpi.ua
The Research Institute of Electronics and Microsystem Technology was established in 2016 and is the legal successor of the Research Institute of Applied Electronics.
The Research Institute of Electronics and Microsystem Technology develops and implements modern electronic equipment and devices for industry, energy, communications and medicine. The Research Institute fulfills orders of the South-Western Railway State Enterprise, Kyiv Metro Municipal Enterprise, Vodokanal Municipal Enterprise, Kyiv Tram and Trolleybus Department, Ukrtelecom OJSC and cooperates with a number of leading institutes of NASU (Electrodynamics, Problems of Materials Science) Magnetism).
A number of leading scientists (including 8 doctors and 26 candidates of sciences) work at the EMST Research Institute to solve scientific and applied tasks. Highly qualified employees make up 30% of the total number of employees in research institutes. The research institute has 2 departments, 8 laboratories and 10 sectors.
Main areas of activity:
control and protection stations for electric motors with microprocessor control;
reactive power compensators of parallel type on IGBT modules;
charging and discharging (ZRU) and charging and stabilizing devices;
uninterruptible power supply systems 0.3-6 kVA;
piezoelectric motors of automation systems with torque up to 40 kg•m.
piezoceramic electric filters at frequencies up to 10 MHz;
photovoltaic panels and converters;
sensors and sensors of automation systems;
electrosurgical devices EHVA "Nadiya" 120… 350 W;
VisaNet™ computer security systems.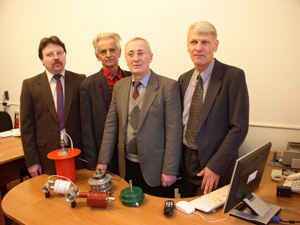 Developments of Research Institute were demonstrated at the International Exhibitions "Energoforum Ukraine-2005", Kyiv, 2005; Energoforum Ukraine-2003, Kyiv, 2003; "Energy. Electrical equipment. Energy efficiency. EEE / Kyiv ", Kyiv, 2002, 2003; International Specialized Exhibitions "Health Care", Kyiv, 2002, 2003; III International Specialized Exhibition of Means of Protection, Weapons and Special Equipment "ISPEK'2003", Kyiv, 2003; 8,9,10th specialized exhibition of security systems and means "Security", Kyiv, 2003-2005
In 2001, the development of the Research Institute "Charging and Discharge Plant ZRU50-120M" became the winner in the nomination "Scientific and Technical Development" of the competition "Leader of the fuel and energy complex – 2001".
In 2003, employees of the Research Institute Dziuba V.G., Nerus O.M. and Polunin O.V. received the Honors of the Kyiv City State Administration and the National Academy of Sciences of Ukraine at the III competition of scientific and technical projects "Intellectual potential of young scientists – the city of Kyiv" in the direction of "New computer tools and technologies for informatization of society."


Piezoelectric motors and drives
Research Institute is the only enterprise in Ukraine that develops and manufactures piezoelectric motors and drives based on them. The inventor of such devices Ph.D. V.V. Lavrinenko. Under his leadership, several dozen patents have been patented in the world's leading countries (USA, Great Britain, Germany, France, Sweden, Japan, and others).
The piezoelectric motor is a fundamentally new type of electric motor, in which the copper windings for torque excitation are replaced by elements made of ceramic material. The engine can be used for technical and technological purposes, medical equipment in direct drive mode (without the use of gearboxes), which significantly reduces noise and increases the reliability of the drive. Unlike electromagnetic analogues, the piezoelectric motor almost instantly gains speed and brakes instantly, and in the off state its rotor is clamped.
| | |
| --- | --- |
| Reversible piezoelectric motor with increased torque on the shaft | Piezoelectric ball valve drive with through hole 1/2″ |
Specialists of the Research Institute have created a functional range of high-torque piezoelectric motors for the speed range from 0 to 60 rpm and the range of load torques from 1 to 300 kg·cm. Supply voltage is 24 V DC.
Based on them, electrically controlled control valves for thermal power plants and heat supply and water supply networks with increased parameters for the diameters of the through hole from 12.5 to 250 mm (0.5″… 10″), as well as economical drives of platforms with a load capacity of 1 to 200 kg.


Power industrial electronic equipment
For industrial enterprises and transport, which widely use rechargeable batteries (electric forklifts, mobile transport) has developed and manufactures chargers ZU100-100A and charging and discharging plants ZRU30-120M, ZRU50-120M, ZRU100 / 80-100B. ZRU plants are fundamentally different in that the charge and discharge of the battery during periodic routine work comes with the return of energy during discharge in the 3-phase AC network, which provides significant energy savings.
Plants ZRU50-120M are intended for a charge and the category of storage batteries with a capacity up to 250 A/h on electric transport, in the electric power industry, the industry when carrying out periodic regular works. They are fundamentally different from traditional devices for similar purposes in that in the discharge mode returns the battery energy to the 3-phase AC 380V, 50Hz. In addition, the plants operate in both manual and automatic mode, have 3-4 times smaller than their counterparts, weight and dimensions, and the modular principle of construction of its main components greatly simplifies the maintenance of the plant. The use of such plants allows you to save up to 80-85% of energy compared to the use of traditional devices.
Plants ZRU30-120M and ZRU50-120M have been successfully operated for more than 4 years in the Obolon and Darnytsia electric depots of the Kyiv Metro Municipal Enterprise.


Automatic control systems for industrial pumping equipment
Plants AKN-2 (for downhole water pumps with a capacity of 0.37-4.5 kW), AKN-3 (for downhole water pumps with a capacity of 1.1-32 kW) and AKN-4 (for circulating water pumps with a capacity of 1.1-32 kW) are designed for automatic control of the pump pressure equipment (level) while protecting it from emergencies. The plants provide automatic start of the equipment after an emergency shutdown.
The microcontroller control panel of the individual heating point (SHU ITP MK) is intended for automatic, manual and remote control of the equipment of the individual heating point as a part: 2 circulating pumps of heating system; 2 circulating pumps of hot water supply system; 2 feed pumps of the heating system; solenoid valve on the supply line of the heating system; electric valve on the water supply pipeline to the hot water system.


Medical equipment
The current electrical high-frequency device ЕХВА-50M/120B "Nadiya-2" is used in medicine for the development and coagulation of small tissues and bladder with a high frequency stream when performing surgical operations in primary operations. Area of ​​health care: medical care, traumatology, oncology, cosmetology.
Basic parameters:
the tension in the "economic" mode – up to 350 W;
the tension in the "coagulation" mode MONO – up to 200 W;
the tension in the "coagulation" mode BI – up to 120 W;
weight – not more than 3.5 kg, overall dimensions – 300x350x140 mm;
Devices have:
smoothly regulation of wickedness from minimum to maximum;
svitlovu indication of switching on before the living, modes of robots, the level of mental strain;
sound signalization of high-frequency supply;
restoration of devotion to medical practice.
The high-frequency stress feed will take care of the onslaught of the foot pedal.
The devices are equipped with monopolar and bipolar instruments.


Computer security systems
The research institute produces a number of systems for control, accounting and safety of individual enterprises and a number of public services. First of all, this is the first domestic computer video surveillance and security system VisaNet™. The system's capabilities allow you to record TV signals from 1 to 16 camcorders, select video compression and video recording modes, independently program recording and control modes of each of 16 camcorders, determine the presence of motion in the frame, archive recorded video frames, search video frames from archive by time and date. view video archive and current image over computer network at a distance.
FaceControl 1.0 is a computer system of automatic face recognition for use by personal control services (passport, others) and information (access to the premises, databases, programs, archives, Internet, etc.).
AvtoControl 1.0 is a computer system for automatic recognition of license plates without stopping and accounting for vehicles in parking lots, recording violations of traffic rules, and more.
FingerScan 1.0 is a system of physical access control based on biometric identification and verification of a person's fingerprint. The modern optical elements and scanning methodology used allow the system to create fingerprint images of the highest quality. The system is used in conjunction with autonomous locks (doors, safes), to control working hours (checkpoints), to control physical access (document management systems, offices, banks, industrial enterprises, individual areas, etc.), car and fire alarms.